Halloween is quickly approaching, and at North Boulder Companion Animal Hospital, we want to make sure this holiday is safe and enjoyable for your pet. Here are a few quick tips to help you keep your pets safe during Halloween.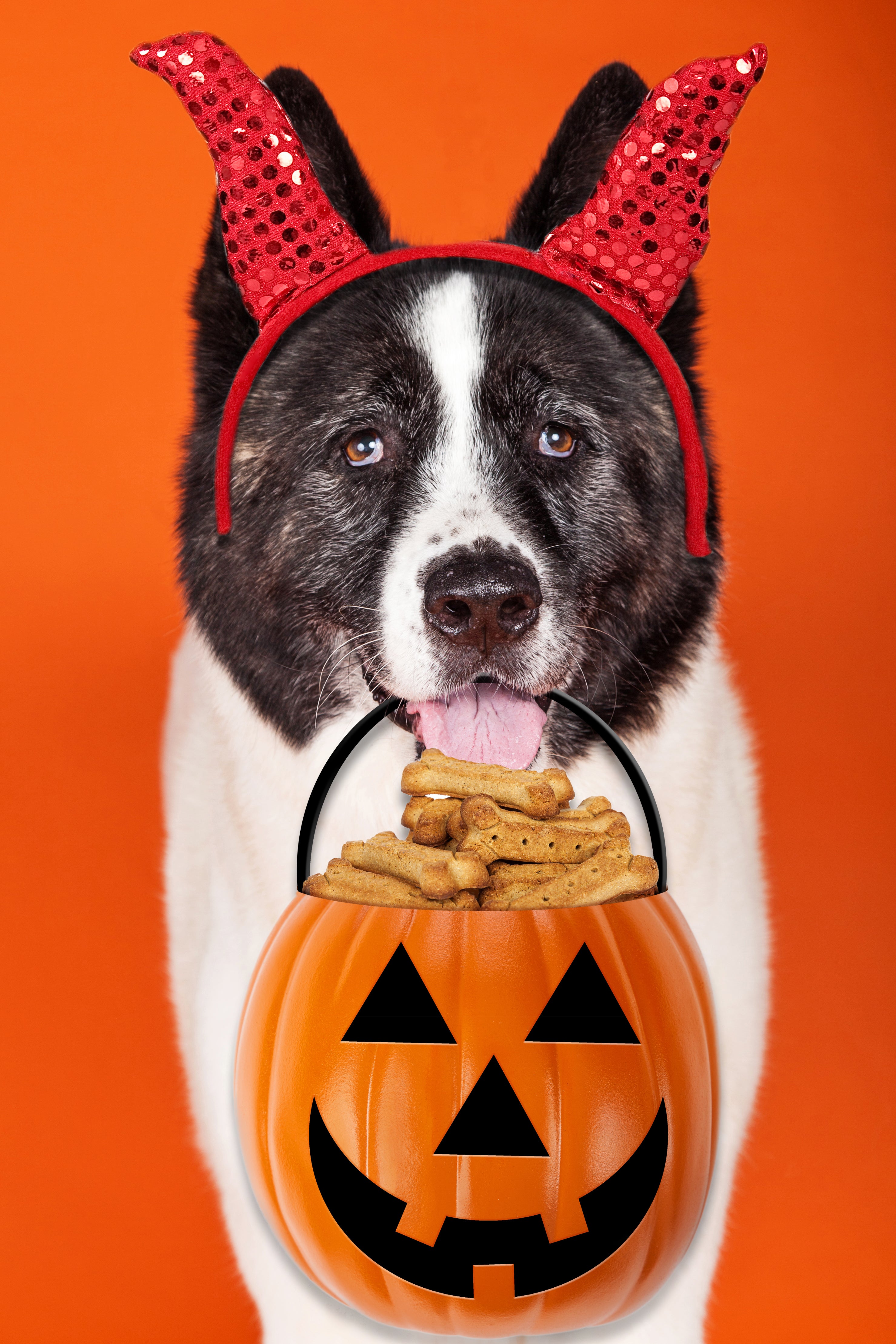 1. Don't let your pet Trick you into Treating them.
One of the best parts of Halloween is all of the delicious treats and candies we get to enjoy. Unfortunately, not all of these are safe for our pet friends. Here is a short list of common Halloween treats that our poisonous to dogs and cats:

- Chocolate: All chocolate is toxic to dogs, but especially dark and baking chocolates. Theobromine, a component of chocolate is processed very slowly in dogs, allowing it to quickly build up to toxic levels. Symptoms of chocolate ingestion can include hyperactivity, muscle tremor, seizures, an irregular heartbeat, and internal bleeding.
- Xylitol: A sugar substitute, Xylitol is often found in sugar-free candies. While safe for human consumption, in dogs, even a very small amount can be extremely toxic. Xylitol can cause hypoglycemia (low blood sugar), seizures, liver failure, and/or even death in dogs.
- Candy wrappers: While candy wrappers aren't technically a food, dogs very commonly ingest wrappers while trying to get to the delicious treats that these wrappers contain. Often, these wrappers can cause intestinal damage or blockage, and may require surgical intervention to remove.
NBCAH's Tips:
- Store your candy bowl in a safe, or elevated place that your pet can't reach.
- Remind children that candy can be dangerous for animals.
- Have North Boulder Companion Animal Hospital's (303-443-9003), local veterinarians near you, and ASPCA Poison Control Center's phone number (888-426-4435) readily available.
2. Costumes – Photo worthy, but occasionally dangerous.
Who doesn't like seeing a Dachshund dressed up as a hotdog or a Golden Retriever disguised as Goldilocks? The team at North Boulder Vet definitely loves a great pet costume. During this Halloween season, pet costumes can create the perfect photo for Instagram feeds, but we urge you to spend time ensuring your pets costume is safe: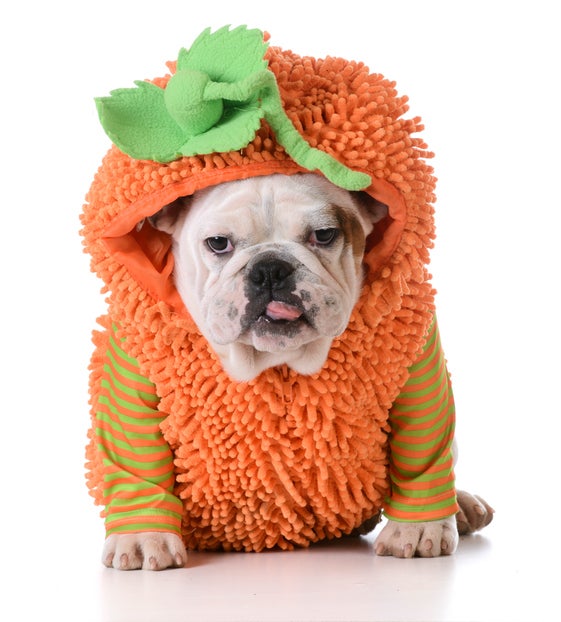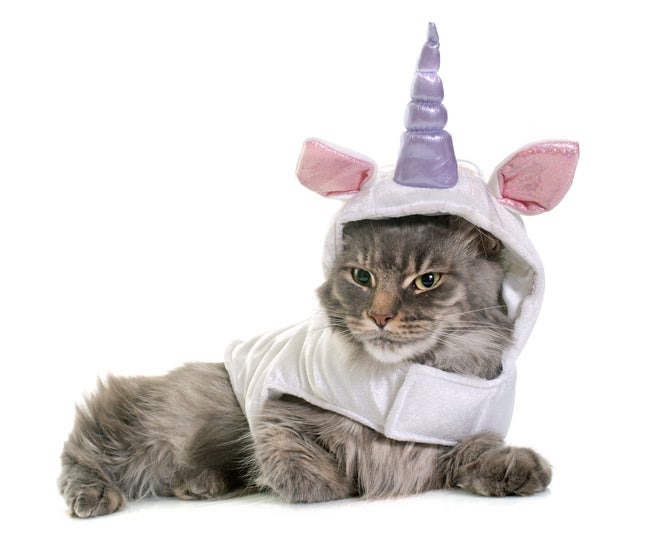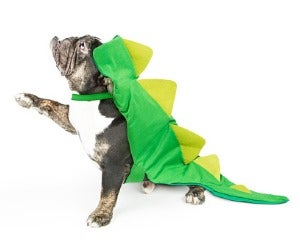 - Choking hazards: Many pets will oblige wearing a costume under your direct supervision, but what happens when you're not looking? Ensure there are no buttons, bells, or other choking hazards on your pet costume that could be dangerous. If there are, remove them before your pet can, or choose another costume.
- Functional: Ensure your pets costume allows your pet to breath, drink, eat, see, bark, meow, and go to the bathroom.

NBCAH's Tips:
- Only keep your pets costume on under your direct supervision.
- If your pet seems stressed, remove the costume and give them a break.
- A bandana or your pets "birthday suit" are great, safe alternatives for your pet.
3. Stress – prevention can be your pet's favorite treat
With the constant ringing of the doorbell and strangers dressed in scary costumes, Halloween can be a very spooky and stressful time for pets. Here are a few quick suggestions on how to limit stress in your pet:

- Exercise: Before all of the festivities start, take your pet on a long walk or play fetch with them. Decreasing energy can help your pet manage stress.
- Toys and Treats: Safe treats such as a Kong toy filled with peanut butter, or your pet's favorite toy, can help occupy and distract them from stressful situations.
- Inside and Away from the Front Door: Keep your pets away from all of the Halloween action. Keeping your pet in a safe room or a crate during the Halloween fun can help them stay safe and away from the scary noises.
NBCAH's Tips:
- Allow your dog or cat to take the night off, even the friendliest of pets can react unpredictably when confronted by someone in a scary costume, or a child holding a bag of tasty treats. It is always better to error on the side of caution on this hallowed night.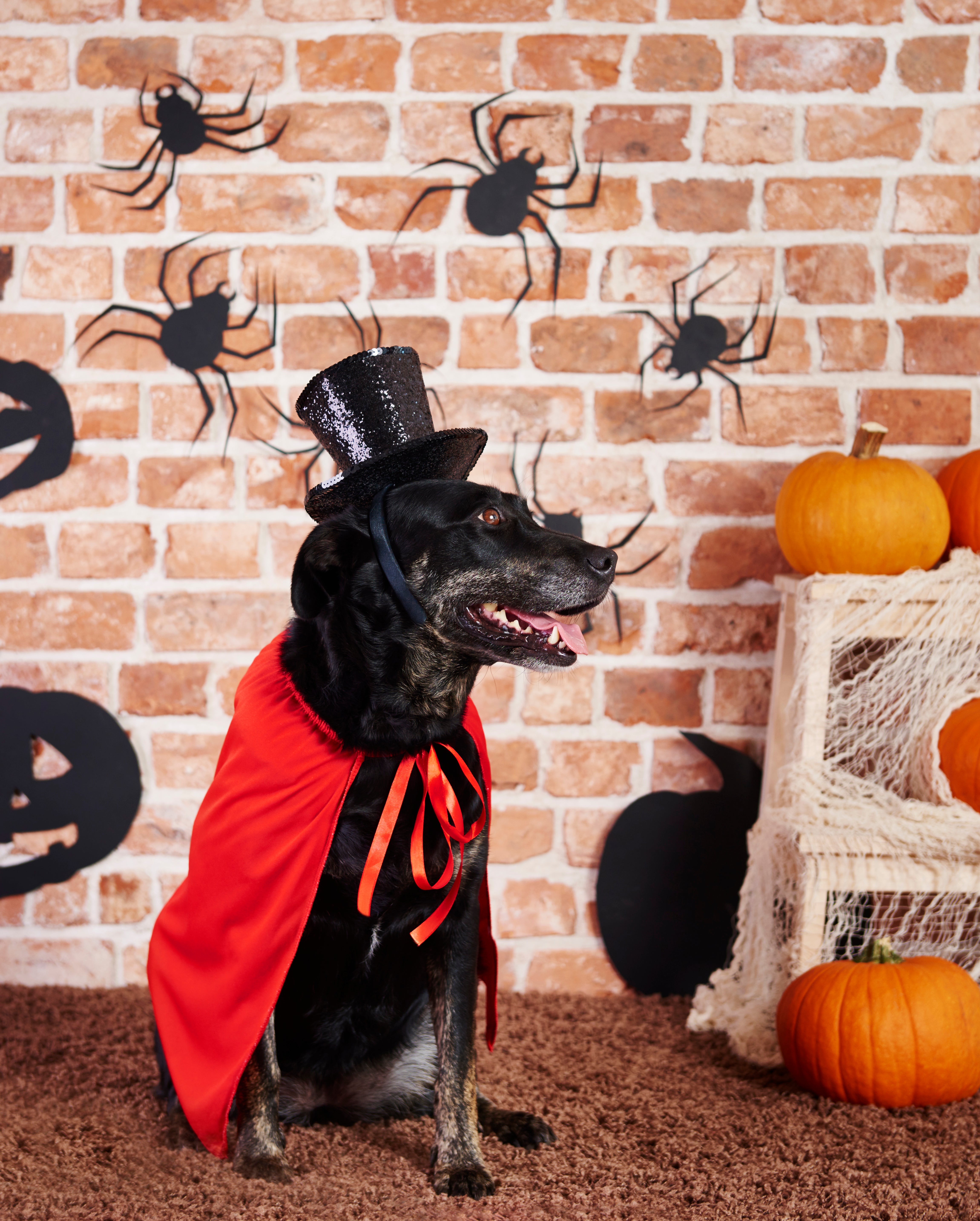 4. Disguise your identity, but not your pets.
Halloween is, unfortunately, a popular time for pets to get loose and run away. Cats and dogs love to sneak out the front door if given the opportunity. Ensure that if yours does, they are easily identifiable, with these quick recommendations.
- Dog tags: Take a quick moment to ensure that your pet's identification tags are still attached. If they aren't, run to your local pet store and have a new one made. If they are, it's never a bad idea to verify that the information on them is correct and still legible.
- Cat tags: Indoor only cat? Consider placing the phrase "If I am outside, I am lost" on your cats tag.
- Microchips: Over the years we have seen many animals returned to there home via microchips, however, this is only possible if the information on them is up to date. Take a minute to ensure your pet's microchip information is accurate. If your pet is not microchipped, call NBCAH today and we would be happy to discuss microchipping your pet with you. If you are unsure if your pet is or not, swing by at any business hour and we would be happy to quickly scan your pet for you.

NBCAH's Tips:
- While it is preferred that you leave your pet at home on Halloween, if you do plan taking them with you, make sure they are leashed at all times.
- Place a bell or light on your dog or cats collar. If they do sneak out the front door, or get of there leash, this increases your odds of being able to find them.
We hope this will help in keeping Halloween enjoyable for you and safe for your pets. If you have any questions about your pet's safety, medical concerns, or would like to talk about your pet's health, give us a call at (303-443-9003).
HAPPY HALLOWEEN!