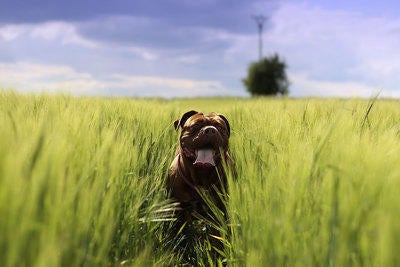 Colorado pet owners BEWARE as its dry season in Colorado and the grasses become mini-weapons for the next few weeks! As the grass seeds dry and fall off their seed tips have a sharp one-way barb at the end which can get caught by animal fur and continue to dig into the skin or body cavity as it progresses. These tips are similar to an arrowhead and are painful when they pierce body tissue. Often they form a small abscess as the body recognizes it as a foreign substance.

The most common penetration sites seen at North Boulder Companion Animal Hospital location are:
Between the toes in the webbing area of the interdigital space. If your pet's paws are very furry they can also enter from the bottom of the paw.


Ear canals, these are very painful for your pet and you will notice a lot of head shaking as they try to get them out. These can penetrate the eardrums and create a temporary dizziness or imbalance if the middle ear is entered. It is important to get these removed as soon as possible.


Unfortunately, anywhere else in the fur/skin can be entered especially if the patient rolls or lays in the grass seeds.


Prevention of skin abscesses:
1. Check your pets' paws and fur daily for the rest of July and remove all seeds

2. Pay attention to limping or excessive licking of the paws or a skin area

3. For our super fluffy pets consider having a groomer shorten the haircoat and trim between the toes so there is less likelihood of gathering seeds in the fluff.

4. Stay on the trail away from tall grasses, avoid allowing your pet to run freely in tall grasses
IF YOUR PATIENT HAS DEVELOPED A SKIN LESION OR HEAD SHAKE CALL NORTH BOULDER COMPANION ANIMAL HOSPITAL FOR NEEDED TREATMENT AS WE WANT TO INTERCEDE BEFORE THE DIGGING SEED BECOMES LIFE THREATENING! DRS. SHELLE RAINES, MIKE SKARIE, AND SUE PATTON WILL BE HAPPY TO COME TO YOUR PETS'AID. CALL 303-443-9003 OR USE PET DESK AT WWW.NORTHBOULDERVET.COM TO REQUEST AN APPOINTMENT. WE ALWAYS ENCOURAGE A PHONE CALL IF YOUR PET IS IN PAIN.